Exnova UAE Review – A Legitimate Broker that Offers Unique Features
Exnova is an online broker that provides traders with a wide selection of trading instruments. On this platform, traders can access over 250 assets such as Forex, CFDs, digital options, binary commodities, indices, and binary options. This trading platform is suitable for both beginner and experienced traders. It offers all the necessary features to make trading easier. Exnova trading platform is renowned for its user-friendliness. It offers traders various trading tools to aid in their trading plans. Additionally, it provides a mobile trading app, making it the ideal choice for traders who prefer to trade while on the go. We will learn more about the platform in this complete Exnova UAE review.
Exnova provides users in the UAE with an easy and convenient way to trade on the financial markets. It is one of the most reliable and secure online trading platforms available in the Middle East. Offering users access to a wide range of international markets and a variety of trading options. The platform features advanced technological security protocols, multiple payment options, and a user-friendly interface. The platform also offers a range of educational materials and customer support to help users get the most out of their trading experience. All in all, Exnova UAE is a great choice for those looking to trade in the UAE.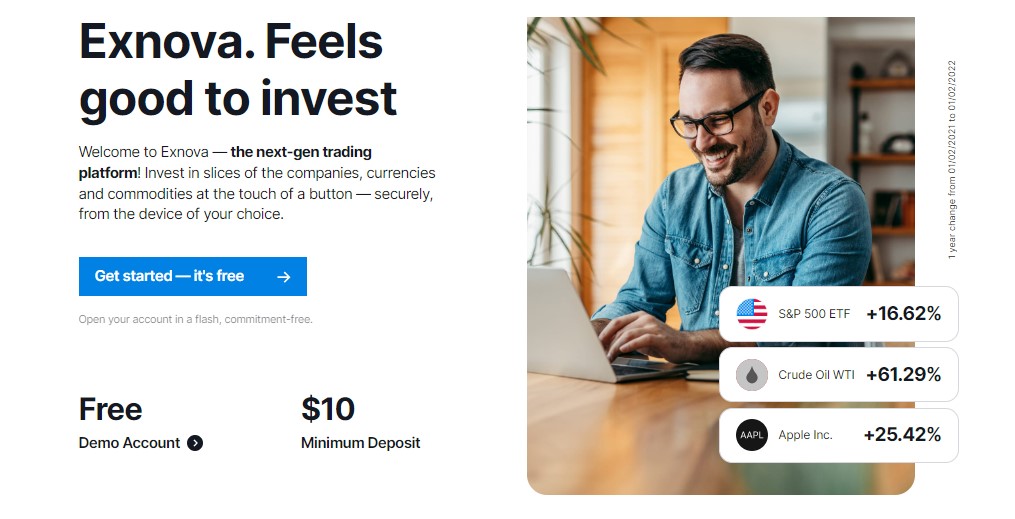 Exnova's Tradeable Assets
Exnova leads in offering over 250 assets to traders. Some of the top assets traders can explore on Exnova include the following.
Forex –

 

Traders can access and trade as many as 31 foreign currencies on Exnova. Traders can trade these foreign currencies with CFDs and binary options.
Commodities –

 

Some top commodities on the trading platform include gold, silver, and oil. Traders can also find natural gas and crude oil for trading on Exnova.
Indices –

 

Traders can trade the leading indices such as S&P 500, NASDAQ, etc.
Binary options –

 

Exnova is one of those brokers that permit binary options trading for traders. Traders can choose the best pairs for trading binary options and enjoy a good payout.
Cryptocurrencies –

 

With the onset and growing popularity of crypto trading, Exnova offers top cryptocurrencies like Bitcoin, etc. Traders can pick and trade a wide range of cryptocurrencies on Exnova.
Digital options –

 

Besides binary options, traders can also trade digital options on Exnova.
By signing up for a trading account, traders can trade the assets offered by Exnova. Exnova offers two different types of trading accounts for traders to choose from.
Demo Account – Exnova provides traders with the opportunity to test the broker's services with a demo or practice trading account. This is especially helpful for traders who are new to the world of trading. They can use virtual funds of up to $10,000 to practice their trading skills. When these funds are exhausted, traders can request additional funds to continue their practice. The demo account offered by Exnova offers a similar experience to its real account.
Live Account – Traders can open an Exnova real account to access all the leading assets on the online trading platform. With this account, they can use their funds to trade and benefit from all the trading tools and technical indicators for technical analysis. Just like any real trading account, traders can make a profit when they trade on this account and reap the rewards of their investments.
Exnova UAE Review | Trading Platforms
Web Trading Platform
Traders can easily access Exnova's web trading platform to trade with minimal hassle. This platform offers its users a variety of features, including technical tools, charts, and one-click trading. With more than 250 available assets, traders can gain access to real-time market data and benefit from the broker's streamlined trading experience. Not only is the platform intuitive and user-friendly, but it also provides a one-click trading feature that simplifies the trading process for traders.
Mobile Application
Exnova has created a mobile application to make trading more convenient for traders. This app allows users on both Android and iOS devices to trade in the same manner as they would on the web trading platform. The Exnova mobile app has the same capabilities and functions as the web-based platform. Traders can access over 250 trading instruments and real-time price quotes on the app. It is also much simpler to keep track of their trading accounts, as they can view all trading history on the app at any time.
Thanks to the trading tools provided by Exnova, traders can anticipate an enjoyable trading experience.
Technical indicators –

 

Traders have access to multiple technical indicators, such as RSI and MACD, for technical analysis. These tools are important for traders to make informed trading decisions. Exnova allows them to view these indicators on trading charts and conduct deeper research.
Drawing tools –

 

Drawing tools such as trend lines can be used by traders on their charts to mark and monitor significant points.
Trading signals –

 

Exnova provides trading signals that enable traders to monitor and capitalize on favorable trading conditions. These signals provide traders with more informed trading decisions, allowing them to reap greater rewards.
Charting –

 

Conduct technical analysis of any asset by opening multiple, highly customizable charts simultaneously. Traders can easily open and close deals with the help of these charts.
Economic Calendars

 

– The broker offers economic calendars to traders so that they can stay informed about important economic events and happenings that could influence their trading decisions.
Exnova UAE Review | Payment Methods
Traders on Exnova have a variety of electronic wallet options, in addition to other payment methods. Depending on where they reside, traders may need to choose a different payment method. The minimum deposit for the Exnova trading platform is just $10. Once the broker confirms your deposit, the money will be credited to your trading account immediately.
At Exnova, you can pay using the following methods:
Credit/debit cards, Bank transfers, Cryptocurrencies, Skrill, Paypal, Neteller, Boleto, Pix, Advcash, Webmoney, Perfect Money
The broker enables traders to select their preferred payment method and begin the deposit process. The first withdrawal made by traders on Exnova is free of charge. Subsequent withdrawals, however, may incur a fee that is dependent on the withdrawal method and currency chosen.
Inactivity Fees
Traders who use their trading accounts for less than 90 days will be charged 10 Euros each month. Or its equivalent in other currencies.
Exnova UAE Review | Special Features
$1 Minimum Trade –

 

Traders can get started with Exnova for only $1, making it a great platform for those looking to start trading with a low amount.
Stop-Loss/ Take-Profit –

 

The trading platform also offers traders the ability to set a stop-loss or take-profit order, which allows them to close out their position when it reaches a desired level of profit.
Negative Balance Protection –

 

Exnova's negative balance protection feature ensures that traders cannot lose more than the amount they have in their trading account balance.
Price Movement Alerts –

 

Exnova provides traders with real-time price movement alerts. Enabling them to take advantage of the market and make informed trading decisions.
Trading guides –

 

If you are a beginner trader, Exnova has plenty of educational guides to help you get started.
Webinars

 

– Traders have the opportunity to learn from the best in the industry by attending webinars. These webinars provide traders with valuable insights into market analysis and trading strategies. Allowing them to plan their trading journey more effectively.
Exnova provides their traders with 24/7 customer support, meaning they can seek help from the broker at any time they experience an issue while trading online. This customer support can be accessed via live chat or email.
Community and Live Chats – Traders can leverage the trading community of Exnova by participating in the community chat feature. This feature allows traders to connect with each other and gain insights into trading strategies. Giving them the opportunity to elevate their expertise. By joining the live chats, traders can gain advice and learn from the trading experience of other users.
Is Exnova a Legitimate Online Trading Platform in the UAE?
Exnova is a legitimate online trading platform in the UAE, offering a wide range of services to investors across the region. It is a regulated platform, that provides the best technology, tools, and services to its customers. The company is a member of the Dubai Financial Services Authority (DFSA) and is subject to the laws and regulations of the United Arab Emirates. Exnova also offers a wide range of educational resources to help traders understand the different investment options available. The platform provides a secure and reliable trading environment. A world-class customer service and an intuitive user interface. Furthermore, Exnova is committed to providing traders with a secure and transparent trading experience.
Exnova UAE Review | Conclusion
In conclusion, the Exnova Online Trading Platform in UAE is a great platform for traders who want to access global markets and make the most of their investments. It offers a range of features and services, including transparent pricing, advanced order execution, real-time market data, and more. Investors can also benefit from the security and convenience of the platform. As well as its secure and reliable trading environment. With these advantages, Exnova Online Trading Platform in UAE is an excellent option for traders who want to make the most of their investments.